A train ride to Cornwall took me through rolling English countryside, villages tucked in the folds of hills, with the occasional large country house. It's autumn, so the bare branches of trees dot the landscape, and sparse hedges line the lanes, enabling the weak winter sun to leak through to the ground in places. After Exeter there were seaside villages and boats sitting on the mud.
I am off to Falmouth to stay with my old building friend Nigel Murray and his partner Janice. Nigel has lots of excursions planned, so it seems I have another travel guide – great – I love to see places, but I am not so good at deciding where and what to see. In fact I prefer it when my visit is coloured by the passions of a local friend – what they enjoy doing rather than what the tourist book says.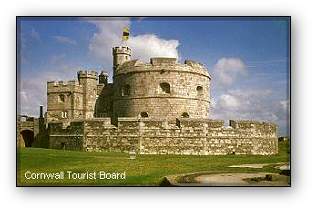 Pendennis Castle
Pendennis Castle has defended the anchorage of the Carrick Roads for over 450 years. Today you re-visit the castle's history from Tudor times to the re-fortification in both world wars. Along with a museum and discovery centre are displays of coastal defence armament and access to the former secret installations.
In the late 1530's Henry VIII was under threat of war from France and Spain because he had divorced his Catholic wife, Catherine of Aragon. As a consequence, Henry set about the fortification of the whole of England's south coast.
The castle stands proud on the Pendennis headland, half mile from Falmouth town centre, and a short walk from where I am staying, so despite the threat of rain, Nigel and I head off for a walk. It has some fabulous and lively exhibits and is well worth paying the entry fee.
On the way home we went via the port and the National Maritime Museum where we went upstairs to the cafe. This must be one of the most magificent settings for a cafe in the UK – up high looking out across the port and harbour of Falmouth. This is definitely a must stop in Falmouth, and while a little cut off from the main older area of town, it is well worth hunting out – just head towards the Port and look for the newer buildings along the waterfront.
Truro Christmas Meat
The country comes to the centre of town in this Cornwall festival which is timed so you can purchase a cow for Christmas Dinner – there is time apparently to butcher and hang it!